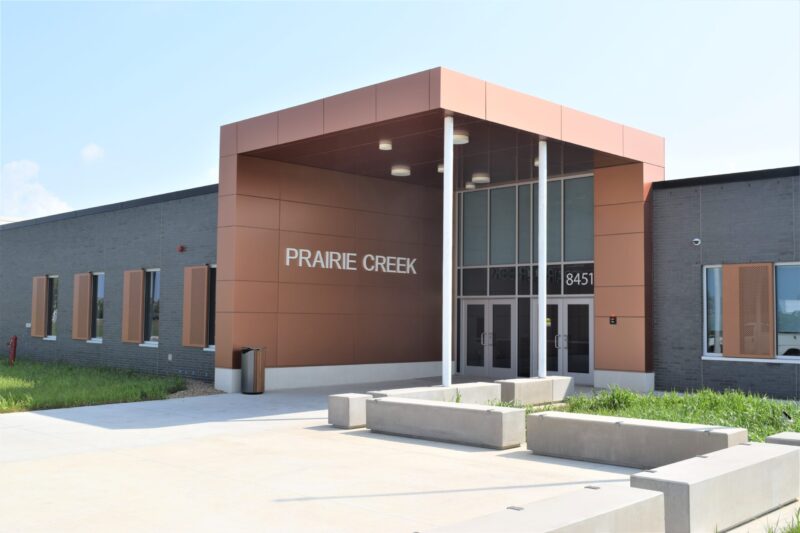 Please join us on Thursday, September 14, 2023 from 5:00 – 7:00 PM for a Community Open House to celebrate the opening of the New Prairie Creek Intermediate School. The new building opened this fall for incoming 5th and 6th graders and is located directly south of Prairie Point at 8451 Kirkwood BLVD SW. The evening will include a Ribbon Cutting at 5 PM followed by student-led tours

The Community Open House provides an opportunity to check out the new 180,000 square feet building which includes 8 neighborhoods with 6 standard classrooms, restrooms and lockers. The new school also Includes project rooms, 3-court gymnasium, fine arts space, and a special education wing. Creek was designed specifically for 5th and 6th graders and features a safe circulation pattern around the building, abundant natural light, playground area, large commons space for gathering and food service, and colorful wayfinding of neighborhoods.

"We are extremely thankful for the community support of this project and excited to share this new space for learning," said Superintendent of Schools Dr. Doug Wheeler. "The new Creek building is designed specifically for the developmental and educational needs of 5th and 6th grade students. This building will enhance the powerful work of our educators as they support students during a critical developmental transition in their life, education and experience at Prairie."

The construction of a new 5-6 building and renovations to the existing Creek building were part of the $54 million bond issue that passed on March 3, 2020 and revenues generated from the state-wide penny tax.