Superintendent's Office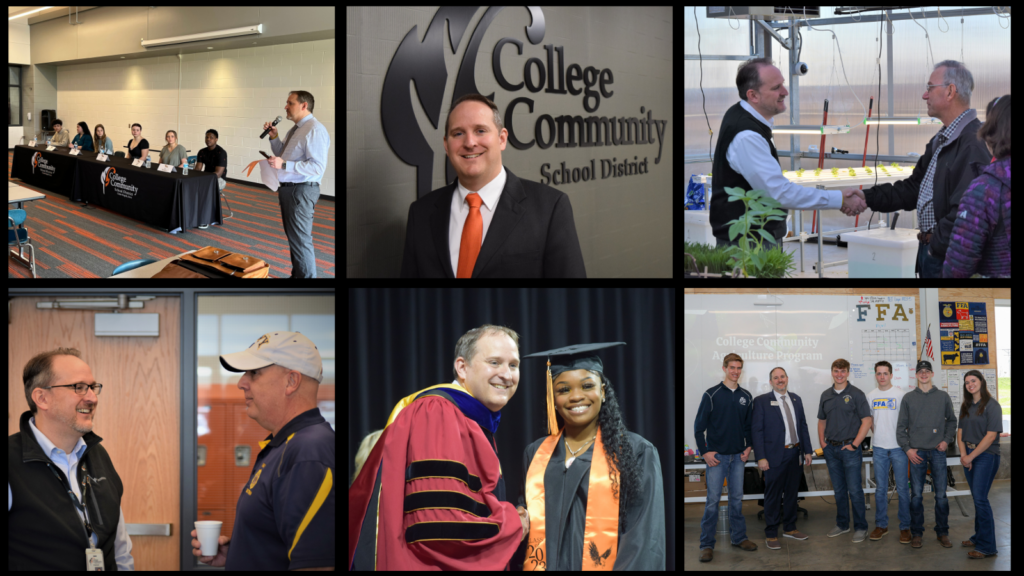 I would like to welcome you to the College Community School District!
At College Community (Prairie) Success for All is more than a vision, it is our way of life. At Prairie, over 1,000 teachers, support staff, drivers, maintenance, clerical and administrative staff work tirelessly to prepare students for our students' future, not our past. Innovation and responsiveness are a hallmark of our programming as we work toward our priority of personalized learning. We believe public schools are best suited to respond to the social, economic, and workforce needs of our community through programming that inspires students to see their future in our community.
While we maintain high academic expectations for all students, our Prairie Ready initiative boldly states that success for all is more than a score. Through Prairie Ready and our K-12 Personalized Learning focus, our students will graduate high school prepared for continued education/training AND ready to demonstrate essential career skills and attributes. Our focus on readiness has culminated in the launch of several new programs and opportunities, including: Agriculture, Medical and Culinary pathways and the District's first Orchestra Program (Fall '23). These existing, new and planned programs will further support a population of learners who distinguish themselves IN and BEYOND the classroom.
College Community is a growing school district that serves approximately 5,800 students from Linn, Benton and Johnson Counties. The 137 square mile district includes the parts of southwest Cedar Rapids, the Cities of Ely, Fairfax, Shueyville, Swisher, and Walford along with surrounding rural areas.
The district's regular programs are located on a 500 acre site on 76th Avenue in Cedar Rapids. This central campus site is unique for districts our size and is a source of great pride for district patrons. The Prairie campus consists of five elementary schools (PK-4), an intermediate school (5-6), middle school and 9th Grade Academy (7-9), high school (10-12) and three off-site programs.
Continued growth brings exciting changes! We continue to experience support from our community through approval of bonds for construction, allowing us to deliver programming in safe, state-of the art learning spaces. We are approaching the conclusion of a 10-year site master plan aimed at accommodating enrollment growth and updating learning spaces. In fall of 2023, we will open the new Prairie Creek Intermediate School, which at capacity can serve up to 1200 learners in grades 5 and 6. In fall of 2024, we will open a new 9th grade center next to the High School in the former Prairie Creek building. These projects will ensure students are served well into the future on our central campus, allowing for up to 30% increase in District enrollment and operational efficiencies which will allow us to grow programming and better services to families and students.
We embrace the use of technology to enhance learning. 1:1 computing started in 2012 and currently all students have access to personal devices for learning. Students in K-2 use iPads, Students in grades 3-12 use chromebooks to create and access curricular materials. The District also regularly updates classroom technology, including teacher computers, projector, audio enhancing devices and AV equipment.
College Community offers a comprehensive educational program. Teachers utilize a variety of standardized, District and teacher created assessments, regularly meeting to adjust instruction to the needs of learners. Our staff is committed to partnering with families to ensure we meet the needs of students now and in the future.

Parent and community support is highly valued. We strive to develop close relationships with students and parents so that our students feel safe and connected. We take great pride in our Prairie schools which are made up of outstanding staff, high performing students and parents and community members who value the importance of a quality education. We are committed to creating a strong sense of belonging for each and every student and family.
I hope our website will prove to be helpful to you. If you are thinking about moving to our community, thanks for your interest in the College Community School District. If you are already a member of our community, I hope you share our Prairie Pride and our excitement.

For more information about our district, please explore our website. If you have questions or would like to know more about Prairie, please contact our Community Relations office at 319-848-5437 or sdoser@crprairie.org.
In Service,

Andrea Eustice
Adm Asst to the Superintendent
Educational Services Center