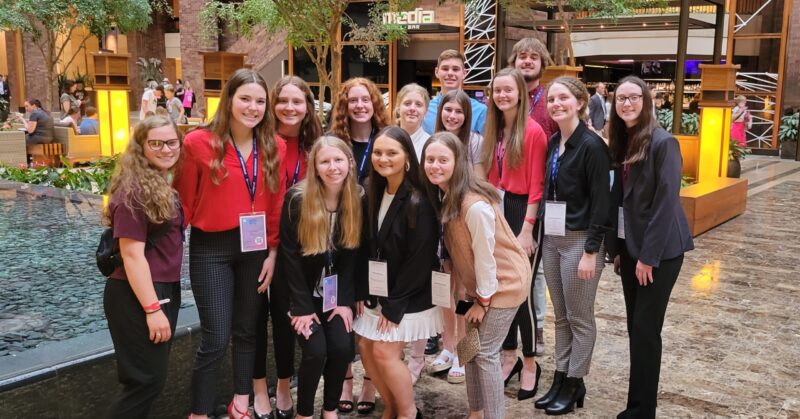 Prairie High School's Business Professionals of America (BPA) chapter made their way to Dallas from May 4th – May 8th to attend the National Leadership Conference in-person for the first time since 2019.   A delegation of 14 students who qualified by competing at State in February, represented Prairie among 6,000 students from across the nation.  Prairie's national qualifiers competed in 11 different events, which lead to two members making their appearance on the national stage.
Congratulations to Zach Cooper and Elliott Bourgeous for their Second Place title in Economic Research Team.  What a huge accomplishment.
Prairie's Delegation:
Megan Andeway                    Ainsley Barnes                        Ella Beach
Elliott Bourgeous                    Zach Cooper                           Kendal Erger
Kristin Gavin                           Coilee Hynek                           Caroline Rausch
Katy Ray                                  Jessie Rosenberger                 Kelsey Taylor
Ava Werning                           Lauren Whinery
Business Professionals of America is the leading CTSO (Career and Technical Student Organization) for students pursuing careers in business management, office administration, information technology and other related career fields.  Prairie's chapter is the largest in the state and advisors Kim Hynek, Mary Gudenkauf and Matt Sima led 60+ members in Des Moines at February's state competition.  "While traditionally we do well at state each year, it is an extraordinary milestone to compete on the National Stage," said Hynek.  "Prairie students have come to recognize and appreciate the skills and knowledge gained from BPA participation which helps them in whichever career path they choose."
BPA has 43,000 members in over 2,300 chapters in 23 states. BPA is a co-curricular organization that supports business and information technology educators by offering co-curricular exercises based on national standards.  The Workplace Skills Assessment Program (WSAP) prepares students to succeed and assesses real-world business skills and problem solving abilities in finance, management, IT and computer applications. It is BPA's showcase program and facilitates students demonstrating their career skills at regional, state and national conferences in 72 competitive events.