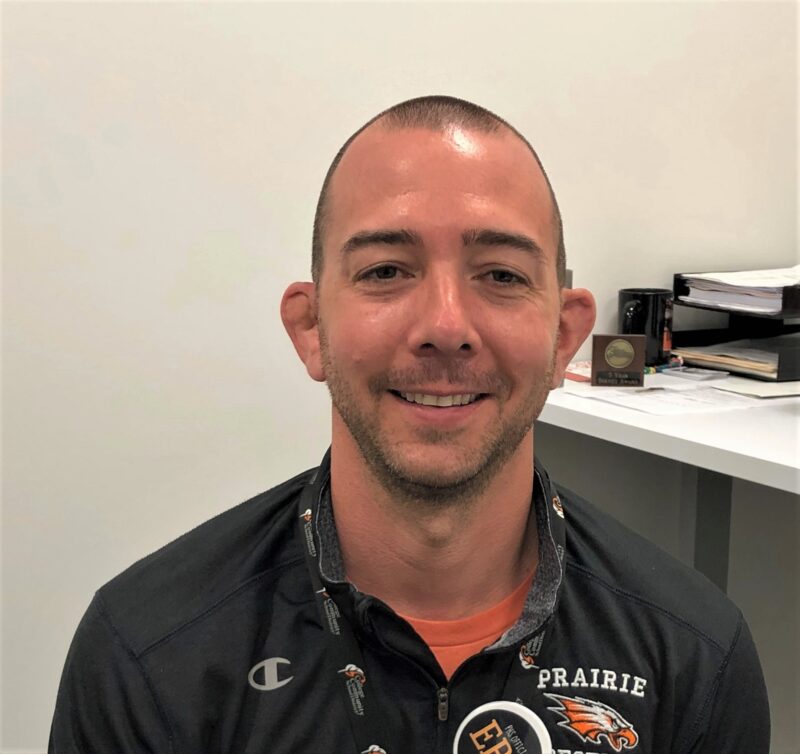 The College Community School District did not have to look far for its next At-Risk Programming and Prairie Delta Site Administrator. Kane Thompson, currently the Building Facilitator at Prairie High School, will become the new At-Risk Director and Prairie Delta Administrator for the College Community School District effective July 1, 2021, pending board approval. He replaces Angela Scholl who will be leaving at the end of the school year.
Prairie Delta is an extension of Prairie High School located on the Kirkwood Community College campus. The program serves students in grades 9-12 in the College Community School District who seek a smaller learning environment.
"We are thrilled to welcome Kane to this position at Prairie Delta and to the district administrative team," said Laura Medberry, Executive Director of Learning Supports.  "Through his role as a building facilitator for College Community, Kane has a history of building solid relationships, dedication to Prairie's students and families, and high standards.  He was selected from a very strong pool of internal and external candidates."
Kane, who is in his 17th year as an educator, has honed his skills in a variety of leadership positions. He currently leads initiatives at Prairie High School in social, emotional, and behavioral health and is the lead for Positive Behavior Intervention and Supports (PBIS).  In addition, Kane monitors student attendance and partners with families to improve student attendance and he coaches teachers and paraprofessionals on effective classroom practices that promote positive behavior. Kane has also led the wrestling program for the past 6 six years where his teams finished with two MVC Conference titles, two State Duals appearances, and numerous state medalists.
Kane, a native of Grinnell, Iowa, earned his Bachelors of Arts degree in Physical Education and Health from Coe College and a Master's of Arts and Education in PK-12 Principal/Special Education Supervisor from the University of Northern Iowa.
"I am very excited to join the administrative team in the College Community School District as the At-Risk Director and Prairie Delta Site Administrator," said Kane. "Working at Prairie High School the past six years has provided me with a variety of leadership opportunities that will serve me well in this position. I am looking forward to this opportunity."
#  #  #
If you would like more information about this topic or to schedule an interview, please contact Steve Doser, Community Relations Director at 319-848-5437 or sdoser@crprairie.org.