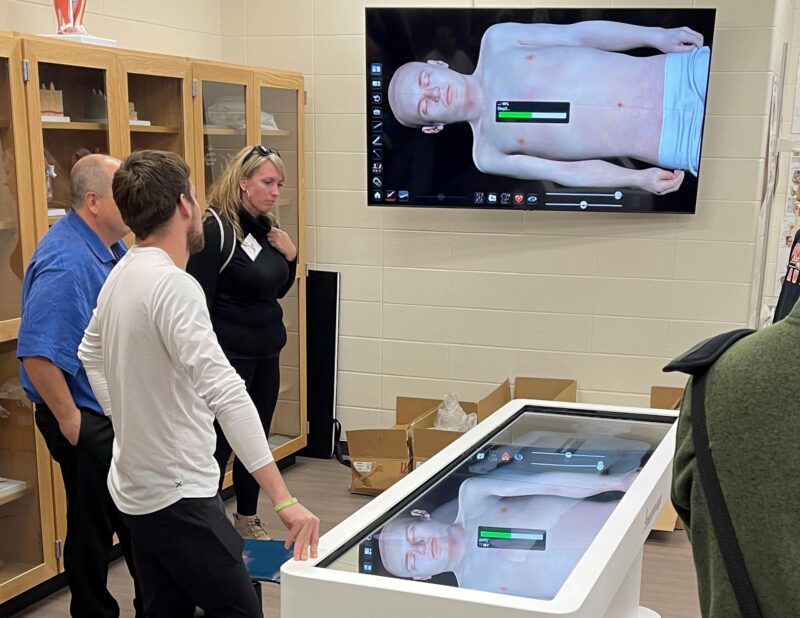 PHOTO: College Community staff visited a high school in Illinois to check out a technologically advanced 3D anatomy visualization table being used in the classroom.
The Iowa Governor's STEM Advisory Council announced College Community Schools as one of the 37 school districts joining the STEM BEST® (Businesses Engaging Students and Teachers) + HD (High Demand) Program. The STEM BEST Program brings schools and businesses together to provide students with real workplace experiences, introduce businesses and career opportunities in Iowa and gain career-ready skills.

The STEM Council Executive Committee reviewed and approved 37 new or expanded partnerships supported by guidance, collaboration and financial investment of up to $40,000 each.

The financial award will be used to purchase an Anatomage Table.  An Anatomage Table is a technologically advanced 3D anatomy visualization and virtual dissection tool for anatomy and physiology education.

"This table will provide our students with an authentic and sustainable real-world learning experience," said Amber Osterkamp, K-12 Science Curriculum Lead. "The table will allow students in grades 10-12 to visualize anatomy exactly as they would on a human cadaver or animal specimen throughout our Health and Public Services, Agriculture and Sciences, and Arts and Communication pathways."

The STEM BEST + HD Program encourages teachers and industry professionals to work side-by-side to develop a work-based learning model that incorporates STEM subjects like mathematics and science with experiential learning opportunities to emphasize high-demand skills for the workplace. The Council's investment of professional and financial support can be used for curriculum development and coordination, educator training and development in workplace-classroom integration and preparing work-based learning environments.

"This award is a wonderful opportunity for our students," said Superintendent of Schools Dr. Doug Wheeler.  "The Anatomage Table is relevant to multiple career pathways offered through our District's career readiness initiative, Prairie Ready.  This tool, not common to high school programs, will increase access to engaging hands-on exploration of anatomy and physiology.  This tool will allow deeper understanding and exploration of careers vital to our community."

To be considered for a STEM BEST + HD Program award, applicants were required to submit a comprehensive proposal that incorporates rigorous and relevant STEM curriculum, includes valuable partnerships with community businesses or organizations, aligns with STEM goals, addresses sustainability of the model program and evaluates the program's effectiveness.

For more information on the STEM BEST + HD Program, please visit https://www.iowastem.org/STEMBEST.