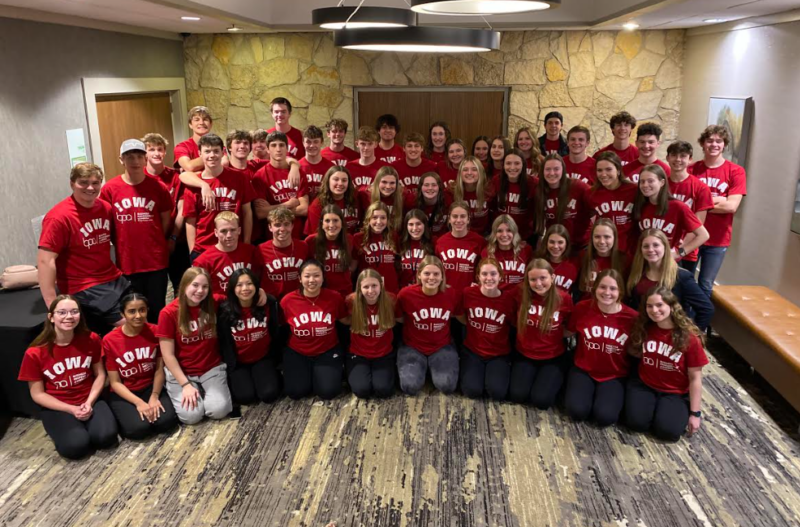 Prairie's Business Professionals of America (BPA) students continued their pursuit of National Qualification by competing at the State Leadership Conference February 19- 21 in Des Moines.  This year's chapter has over 60 members, with the majority attending and competing at State.  Prairie delegates placed in numerous contests thus qualifying 40 to attend the National Leadership Conference in Anaheim, CA in April.

While at State, students registered in 70+ events in areas including Finance, Management Information Systems, Business Administration, Digital Communications and Design, Marketing/ Management/Communications.   Prairie students dedicate their time by attending candidate caucuses, listening to candidate speeches, and electing their 2023-2024 State Officer slate.  The conference ended with a closing session and awards ceremony.

Advisors Kim Hynek, Mary Gudenkauf and Caleb Rheingans  worked with students in preparation for this competition.  Prairie's chapter began in 1998 with just four members.  Today Prairie has over 60 members, and is proud to have the largest state chapter and most participants in Des Moines.

Business Professionals of America is the leading CTSO (Career and Technical Student Organization) for students pursuing careers in business management, office administration, information technology and other related career fields.  BPA has 43,000 members in over 2,300 chapters in 23 states. BPA is a co-curricular organization that supports business and information technology educators by offering co-curricular exercises based on national standards.

Click here for a listing of Prairie's National Qualifiers.