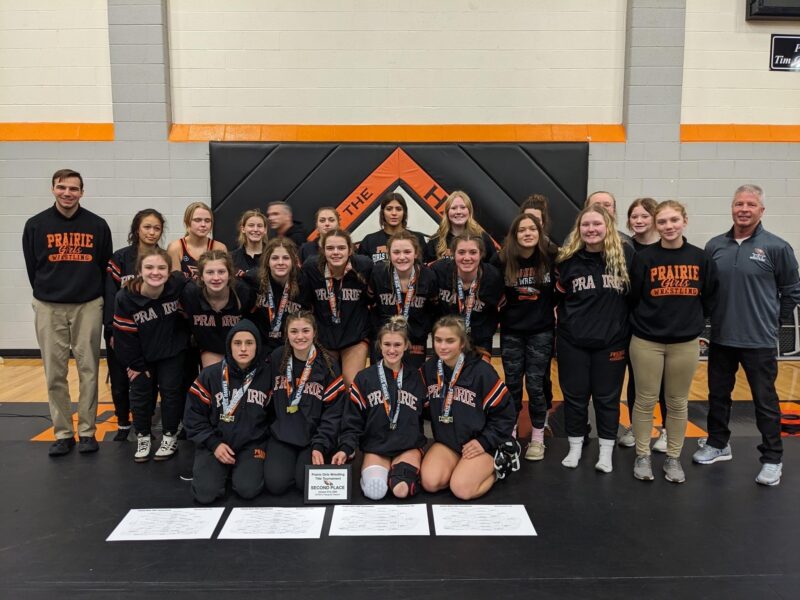 Congratulations to the Prairie Girls Wrestling program who captured 2nd place at the Title Tournament. The Title Tournament, which consisted of 14 MVC teams, was hosted by Prairie on Saturday, January 21.
Prairie finished with a tournament-high seven finalists and four champions. Hawk titles went to Myah Rausch at 100, Kenzie Childers at 125, Jade Hynek at 140 and Erika Brokovich at 155.
"I am so incredibly proud of this team and our coaching staff," said head coach Zachary Becicka. "They wrestled at such a high level all day long and really showed their toughness. Incredibly proud of each wrestler."
Champions
Myah Rausch
Kenzie Childers
Jade Hynek
Ericka Brokovich
2nd Place
Claire Hynek
Luisa
Chloe
3rd Place
Karsyn Roling
5th Place
Madison Childers
6th Place
Aliya Phillips
Next up for Prairie is Regionals which will be held this Friday, January 27 at the Alliant Power House. Wrestling starts at 11 am and Prairie is in Regional 6. Top 4 in each bracket will qualify for State at the Xtream Center in Coralville February 2 and 3, 2023.
Congratulations to coaches Zachary Becicka, Marlon Blaha and Bella Feaker and the entire Prairie Girls Wrestling program for an outstanding tournament!