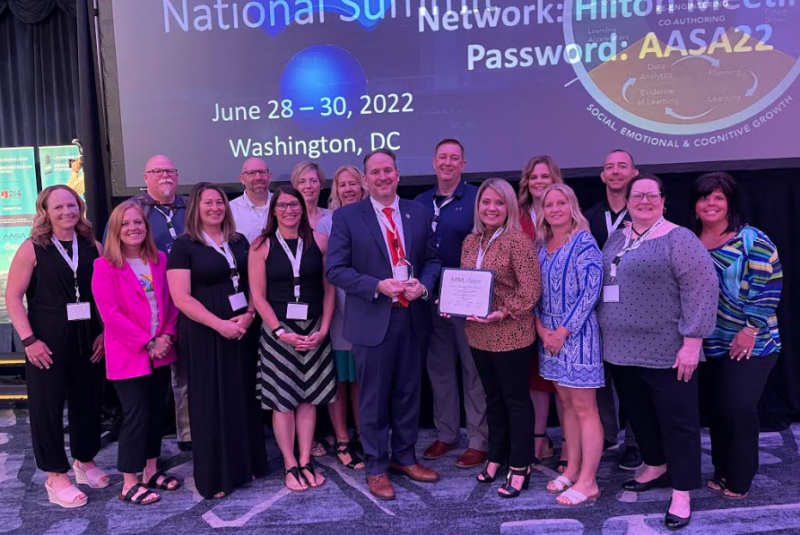 College Community Schools was recognized at the first annual AASA Learning 2025 summit as a "Demonstration System to Watch" in recognition for the District's work in Social Emotional Behavioral Health / Social Emotional Learning.  Additionally, the District presented as part of a panel on our work and ongoing journey to systemically meet the social emotional needs of students.
Learning 2025: Student-Centered, Equity-Focused Education calls for holistic redesign of the public school system by 2025. The initiative is grounded in the foundational work of the AASA Learning 2025 National Commission, comprising thought leaders in education, business, community and philanthropy.
Being a "Demonstration System to Watch" in the area of Social Emotional Learning means:
This redesign area is moving toward full implementation with capacity for sustainability.
Evidence indicates relevant and useful information that can support educators' work
with the redesign component. Positive outcomes are promising but not sustained over
multiple years. Evidence of a system's being student-centered, equity-focused and
future-driven is clear and sustained over time. (AASA Learning 2025)
College Community Schools is currently the only school district in Iowa engaged in the Learning 2025 network of nearly 500 school districts nation-wide.  "The priorities of Learning 2025 fits tightly with our 10-year strategic plan (now in year eight of the plan) to create a personalized learning system built on guaranteed and viable curriculum and environments," said Superintendent of Schools Dr. Doug Wheeler. "Schools across this state and nation are doubling down on best practices and exploring and implementing next practices to meet the needs of students; we feel we have successes to share as well as explore in a network of this type. It feels great for our staff to receive this recognition for their hard work."
The College Community School District will continue to collect evidence in all areas of the Learning 2025 Framework and learn from the passionate educators in this network.
The College Community School District serves 5,800 students from Linn, Benton, and Johnson counties. The 137 square mile district includes the cities of Ely, Fairfax, Shueyville, Swisher, Walford and SW Cedar Rapids.