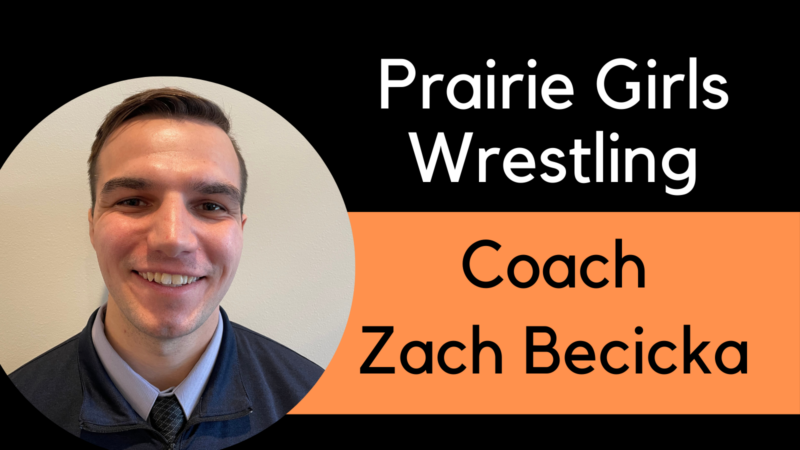 The Prairie High School athletic department is excited to announce the hiring of Zach Becicka as the first head coach for Prairie Girls Wrestling.
The Iowa Girls High School Athletic Union announced in January 2022 that they had officially sanctioned girls wrestling in response to statewide growth in the sport.  That trend is evident at Prairie as well, with a notable increase in participation of girls in the wrestling teams at all levels; Hammerin' Hawks Wrestling Club (youth), Prairie Point Junior High, and Prairie High School.  Prairie Hawks Anna Lantz and Mackenzie Childers were the first Prairie Hawks to compete in the IWCOA High School Girls State Wrestling Tournament in 2022.
"This is an important moment in the history of Prairie Athletics as we continue to expand opportunities for all students," said Activities Director Rocky Bennett. "It is even more significant to begin our girls wrestling program and hire Zach as our first head coach in a year that we celebrate the landmark legislation of Title IX which has transformed opportunities for girls in sports the past fifty years."
Becicka is a 2012 graduate of Prairie High School during which he was a four-year varsity starter, state tournament participant, and an important member of two state dual teams.  He wrestled at Cornell College (Mt. Vernon) under legendary head coach, the late Mike Duroe and earned degrees in Business & Economics and Kinesiology.
Becicka's experience coaching girls wrestling began at Solon High School in 2019. During his tenure at Solon he saw a lot of growth and success which included coaching 17 girls who competed at the state tournament in 20-21. Two wrestlers were crowned WAMAC conference champions.
"We were overwhelmed with Zach's passion and experience with girls wrestling as well as his vision and detailed plan to build a competitive girls wrestling program at Prairie," said Derick Ball, Head Coach Prairie Wrestling (boys). "I look forward to working with Zach as we continue to build on a rich tradition."
Coach Becicka expressed his excitement about getting started and offering opportunities specifically for girls that are interested in the sport, K-12, this spring and summer. "It's a dream come true and I'm excited for the opportunity," said Becicka. " Very few have the chance to coach at their alma mater and I am excited to be a part of a program with such a rich tradition."
A "Meet the Coach" event will be held on Monday, April 18th at 6:30 PM in the Prairie High School Commons. This will provide the opportunity for students and families to meet Coach Becicka.