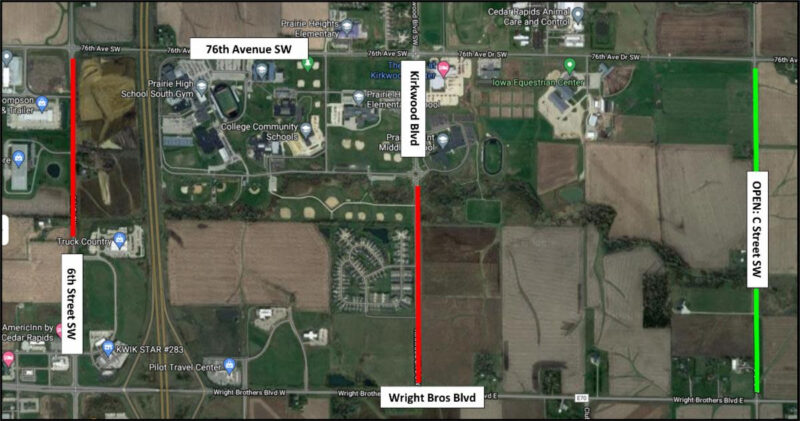 City of Cedar Rapids Road Construction Update November 17, 2021

KIRKWOOD BOULEVARD SW 
Construction continues on the roundabout at Kirkwood Blvd SW and Woodstone Lane. C Street SW remains open to traffic and is the detour route while Kirkwood Blvd is closed for construction.
Kirkwood Boulevard remains open south of the new roundabout. Starting next week, the roundabout will be closed again while contractors complete some final work. During this time, traffic will again shift to the temporary detour road, south of the housing development, via Brighton Way SW. This work is expected to continue until around the end of the month.
Once the work is finished, the roundabout will be reopened and the project will be substantially complete. The City of Cedar Rapids expects Kirkwood Blvd. SW to be completely reopened to traffic by early-to mid-December. Final project milestones, such as grass seeding, permanent lighting, pavement markings, and removal of the temporary detour route, will take place in the spring.
6th STREET SW – SOUTH of 76th AVENUE
The 2021 Construction Season is coming to a close for the 6th Street SW project.
Traffic Impacts
6th St SW will fully open to traffic between 76th Avenue SW and Wright Brothers Blvd by end of day on Friday, November 19. This will conclude the first phase of this two-year project.
2022 Construction Season
When weather allows in the spring, 6th Street SW will close for the next phase of construction, between just south of Thompson Way SW to north of the existing Goodwill Outlet driveway. A detour will be in place when this work starts in spring of 2022.
Business and residential access will remain open throughout construction.