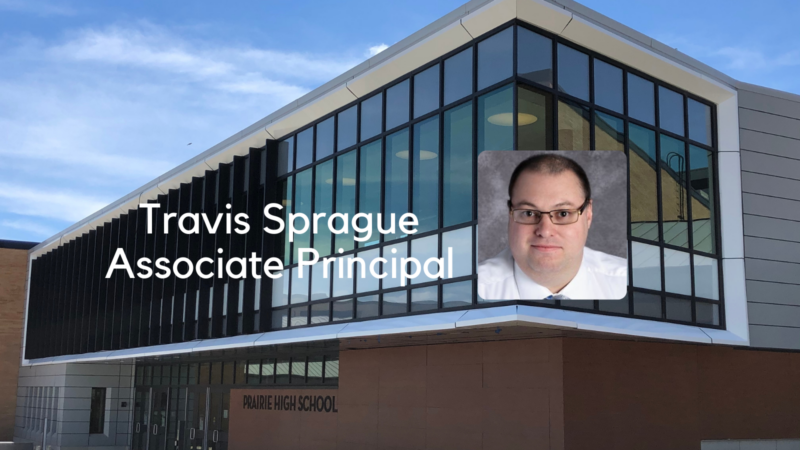 The College Community School District has named Travis Sprague as Associate Principal at Prairie High School pending Board approval.
Sprague, a native of Osage, Iowa, comes to the College Community from the Marcus-Meriden-Cleghorn School District where he serves as the PK-4 and 9-12 Principal. Prior to Sprague's current role, he began his education career with the Harris-Lake Park School District where he taught middle school and high school social studies. During his tenure at Harris-Lake Park he was the Technology Integrationist and an Instructional Facilitator.
Sprague, who is in his 14th year in education, currently serves on a variety of state and regional committees. He currently serves on the School Administrators of Iowa (SAI) Legislative Committee, the Northwest Iowa Legal Lab Committee and the Regional Planning Partnership Committee. During his tenure at Marcus-Meriden-Cleghorn School District, Sprague was involved in a variety of district and leadership committees. He served on the School Improvement Advisor committee, Reading Curriculum Adoption Committee, the CTE Advisory Board and is part of the building and instructional leadership team.
"We are thrilled to welcome Mr. Sprague to the leadership team at Prairie High School," said Prairie High School Principal Karla Thies. "Over the course of his career, he has proven himself to be a skillful educational leader who places students at the forefront of the learning process. We look forward to seeing the positive impact he will have on the students, families and staff at Prairie High School."
Sprague received his bachelor's degree in education from the University of Northern Iowa and his master's degree in educational leadership from the University of Northern Iowa.
"I am excited to join Prairie High School as the associate principal," said Sprague. "I am excited at the prospect of helping lead learning with our leadership team and working with the amazing staff. I have a passion for student engagement, excellence in the classroom, and look forward to building strong relationships with students, staff, and families at Prairie High School and in our school community."
Sprague will begin his role at Prairie High School effective July 1.