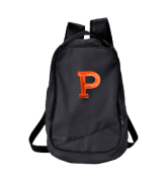 Prairie Backpack
College Community School District's "green" approach to distributing information from school sponsored activities and non-profit organizations.
Submission Guidelines
All non-school sponsored flyers will be distributed to students and parents using Prairie Backpack. Those wishing to submit information to be posted must do so electronically by filling out the submission request form.
All activities or information must be appropriate for school aged students. Non-school sponsored information will only be distributed from 501(c) (3) non-profit organizations or is an activity that is part of our educational curriculum.
Flyer distribution request should be submitted at least 10 working days prior to the desired distribution date.
The following information is required with your email request:
PDF flyer
Desired posting date
Target grade levels
Sponsoring organization
Contact name & phone number
Non Profit Tax ID Number 501(c) (3)
Any flyer approved for distribution must include the following statement:
"This is not a College Community School District publication. It is being distributed through the school district as a community service of the district to inform you of other community activities or services available."
Information meeting any of the following criteria will be prohibited:
Is obscene to minors;
Is libelous;
Contains indecent, vulgar, profane or lewd language;
Advertises any product or service not permitted to minors by law;
Constitutes insulting or fighting words, the very expression of which injures or harasses other people (e.g., threats of violence, defamation of character or of a person's race, religion, gender, disability, age or ethnic origin);
Presents a clear and present likelihood that, either because of its content or the manner of distribution, it will cause a material or substantial disruption of the proper and orderly operation and discipline of the school or school activities will cause the commission of unlawful acts or the violation of lawful school regulations.
The College Community School District reserves the right to limit or deny requests.