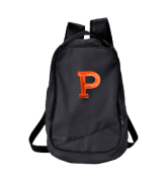 Prairie Backpack
College Community School District's "green" approach to distributing information from school sponsored activities and non-profit organizations.
Events
2022-23 Prairie HS Open House and All Activities Kickoff

Location

Prairie High School

Audience

9th-12th Students, Families, Community

Cost

Free

Contact

Rocky Bennett

Email

Phone

Information

This will be the 9th-12th launch event for our multi-year, district-wide initiative to enhance our sports and activities culture. The attendees will learn about the mission and vision of the Positive Coaching Alliance and how it's character-based curriculum will provide the opportunity to grow the activities environment, K-12. All 9th-12th students, families, activity leaders, and community are invited to attend. This event will correspond with the sophomore and new high school student orientation, feature an opportunity to view fall activity practices, and provide a chance to participate in a tailgate hosted by the Prairie Booster Club.