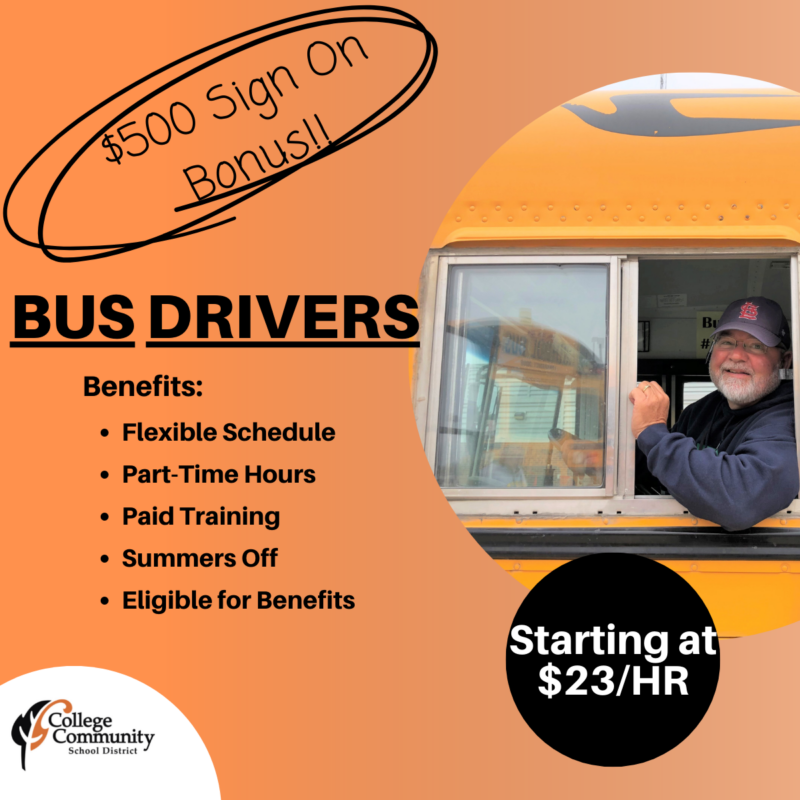 College Community Becomes Highest Paying District in the Area
College Community School District is excited to announce the bus driver starting salary is $23 an hour, effective November 22, 2022. The two dollar an hour increase from $21 also includes a $500 sign-on bonus for new hires. This is the latest bus driver recruitment and retention initiative College Community has launched in the last four years in response to the national bus driver shortage.
"Our goal is to ensure that every student who needs transportation has a ride to school each and every day," College Community School District Superintendent Douglas Wheeler said.
While a Class B CDL license is required to drive a school bus, this license is not required to apply to College Community. New hires are compensated for completing on-the-job training and are reimbursed for half of the cost of the license. Additionally, College Community covers the cost for the Department of Transportation (DOT) physical, pre-employment drug screen and all other certification expenses. Bus drivers enjoy a flexible schedule with part-time hours, paid holidays, summers off and eligibility for benefits.
In addition to the new starting salary and sign-on bonus for new bus drivers, College Community is rolling out a new recruitment bonus for all College Community employees that recruit a bus driver, van driver or bus aide to join the Transportation Department.
If a College Community employee recruits a new staff member to join the Transportation Department within the first 45 days after November 22, the College Community employee will receive $250. And if they recruit someone after the first 60 or 90 days following November 22, the College Community employee will receive a $100 recruitment bonus.
"As we emerge from the pandemic, the challenges of staffing are impacting all sectors of our economy. Schools are also experiencing this unprecedented staffing challenge, which has been well documented in local and national media. While College Community and Iowa, in general, tend to be experiencing fewer challenges than other states, we have not been immune to the impacts of staffing shortages, especially in the area of transportation," Wheeler said.
College Community is proud of honoring the district's longstanding commitment of transporting nearly 4,000 students every day. "It's a tradition we want to maintain for our families," Wheeler said.
In the last four years, College Community has rolled out three bus driver salary increases, created an employee recruitment bonus program, increased bus driver benefit eligibility and added an additional paid holiday.